New Hampshire's Mount Monadnock is well-known as one of the world's most-climbed mountains. Although its elevation is relatively modest at 3166 feet (roughly half the size of Mount Washington in the White Mountains), its isolation and barren summit give it the feel of a much larger eminence. And that's the reason for it's appeal - it offers the experience of a big mountain, accessible via relatively short trails that can be completed in a few hours.
Unlike the highest summits in New England such as the Presidential Range, Katahdin, and Mount Mansfield that have naturally open alpine zones, Monadnock's summit was cleared during the 19th century by a combination of human-set fires (possibly to eradicate wolves) and storms.
With an estimated 100,000 visitors annually, the popular Monadnock trails can be quite crowded at times, especially on warm-weather weekends. However, the reservation's 35-mile trail network offers a variety of options. Here are some highlights removed from the well-beaten paths.
Pumpelly Trail/East Ridge: At roughly 8 miles round-trip, the Pumpelly Trail is much longer than the other popular trails. However, while not to be underestimated the climbing is mostly easy to moderate, with just one or two short steep sections. What makes this route worthwhile are the numerous open viewpoints along the ridge. There are fine views across the countryside to the nearby Wapack Mountains, as well as Monadnock's summit, seen here from one of the junctions.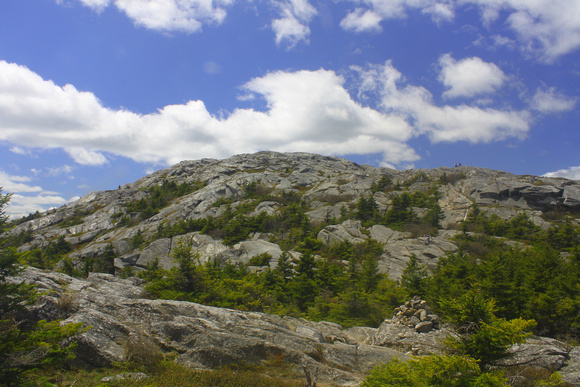 Bald Rock: You don't have to climb to the summit to enjoy great views. The mostly open shoulder known as Bald Rock on the south slopes offers a very interesting perspective, including long panoramic views and a good look at the summit above to the north. There are several options for reaching it. When I took this winter sunset, I followed the old Toll Road past the Halfway House, then took the Side Foot and Hedgehog paths to Bald Rock. The Toll Road and White Arrow Trails offer a fairly straightforward climb (an easy ascent on the road, then a steeper climb below the summit) from the parking area on Route 124.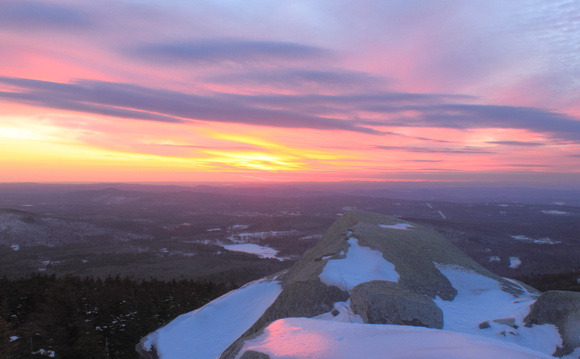 Gilson Pond/Birchtoft Trail: Tucked at the base of the east slopes, Gilson Pond offers scenic views of Monadnock's looming profile and is also home to a state park campground. A pleasant and easy nature trail, excellent for families, circles the pond, with views of a beaver lodge and concrete dam. The Birchtoft Trail branches off the pond loop and offers a moderately difficult 3.5-mile route to the summit.
If you're interested in learning more about Monadnock and its rich history, Rabbit Ear Films is in the process of producing the first documentary of the mountain, Monadnock: The Mountain that Stands Alone. Check out their website for more infor: http://www.monadnockfilm.com/