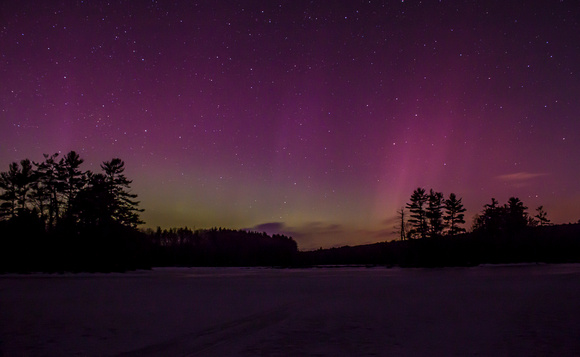 On March 17, 2015 - appropriately enough, at the close of a very active period of late winter weather in the Northeast - a strong solar storm created outstanding aurora displays worldwide. The storm was classified as a 'G4,' meaning it had the potential to be visible as far south as the mid-Atlantic states. Though the storm peaked during daylight hours in the Northeast, it remained active after dark. This image was taken at Harvard Pond in the north-central Massachusetts town of Petersham. Many other images from around the country showed a distinct green glow, appropriate for St. Patrick's Day. The purplish pillars were similar to ones I saw in New Hampshire in September 2014, a display that was also visible in Massachusetts. The March 2015 aurora was also visible on Cape Cod and other points south.
Aurora displays (known as Aurora borealis in the north and Aurora australius in the southern hemisphere) are formed by interactions between particles from the sun and Earth's atmosphere. They most often are green or pink, but other hues may be visible depending on the types of gases.
Though viewing the northern lights outside of the highest latitudes often involves lots of patience and a dose of luck, there are many resources currently available that increase your odds. Websites such as http://www.spaceweather.com and NOAA offer forecasts that can give as much as several days advance notice of a storm. Once a storm is in progress, check pages such as http://www.softservenews.com/Aurora.htm or Facebook sites for short-term updates. You can even sign up for customized aurora alerts to your phone. One of the key items to track is the 'kp' index. In short, this number reflects viewing zones from north to south. The higher the number, the further south the aurora will likely be visible. The locale in the image is right on the kp 7 line, and when the storm spiked to an 8 shortly after 10:00 PM, the aurora became visible.
When choosing a viewing area, a clear view of or near the northern horizon is an obvious necessity, and the further away from light pollution the better. A bright moon may make it difficult to see faint auroras. If you can get to or live near a landmark such as a lighthouse, barn, mountain, or the like, it will add a point of interest (as long as it doesn't obscure the view). If you get there before sunset, you'll be able to scout vantages and get your camera's focus set. Patience is an essential part of observing and photographing auroras - be prepared to wait extended periods of time for a show that might last just a few minutes.
Once you're in position and witnessing a display, basic photography essentials include a sturdy tripod, cable release or self timer, extra batteries (especially on cold-weather nights), and adjusting to the necessary ISO for the conditions. The intensity of the display and overall scene will affect exposure times. Be aware that your camera's display monitor will look brighter in the dark than the actual image that gets recorded. In post-processing, use tools such as luminosity and clarity to reduce noise and definite features. It's tempting to push saturation and vibrance to make the colors pop, but be careful about going too far and making the scene look unnatural. Keep an eye on the forecast and sky, and good luck!