As anyone who lives in the Northeast is well aware, a long, cold winter has been followed by a cool early spring, and the growing season is off to a very slow and patchy start. Nevertheless, the region's ephemeral wildflowers have been blooming nicely over the past couple weeks, offering welcome color to the leafless forests.
The spring ephemerals bloom in the mid-spring window between the last deep frosts and snowmelt and leafout on the trees. During this time, they take advantage of the light that reaches the forest floor through leafless woods. The various species each have distinctive flowering times and habitats. Knowing where and when to look is especially important with spring wildflowers, as the viewing season can be as short as a matter of days locally. You're not likely to find a colony of lady's slippers in mid-April, or bloodroot flowering in June. It's impossible to provide specific dates given New England's topographic and climactic diversity and highly variable spring temperatures, but below is a quick guide to some of the favorite early-season species.
Round-lobed Hepatica
The blooms of round-lobed hepatica, which can vary from purple to deep lavender blue to pale blue to nearly white, are a favorite of many naturalists and a welcome early sign of spring. The flowers close at night and on heavily overcast days to protect pollen stores. Flowering time is generally from mid-late April into early May. Areas with rich soils fed by limestone and marble are the best places to check for hepatica, which can be elusive to find even in suitable habitats.
Red Trillium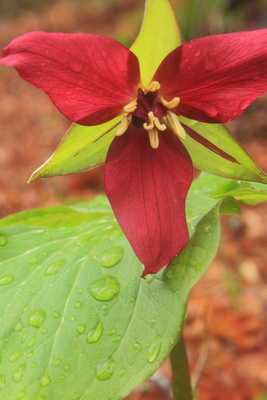 Also known as "purple trillium," "wake robin," or the rather unflattering "stinking Benjamim," this member of the lily family thrives in rich, moist woods. It blooms from late April to as late as late May or early June in highest elevations, such as the summit of Mount Greylock in western Massachusetts. Red trilliums often grow along streams and brooks, which can make for a nice photo opportunity. As its name suggests, each flower has three dark red/maroon leaves. Uncommon white or yellow variants may also be seen locally (below).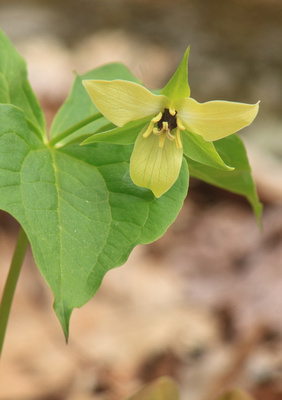 Bloodroot
This photogenic member of the poppy family features a white-petaled flower and a large leaf that grow on separate stems. The leaf initially envelopes and protects the flower bud. After emerging, the flowers, which have 7-12 petals, open in full sunlight and close at night. Habitats include floodplains, stream banks, talus slopes, and moist, rich woods. Dense colonies may also be seen growing in association with active abandoned garden sites. Blooming time in the Northeast is generally the last two weeks of April, though they may continue into early May in late years such as 2014.
Trout Lily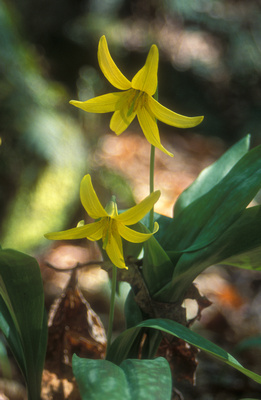 The bright yellow blooms of trout lilies can be found in moist hardwood forests, especially along river and stream banks, and in rocky areas such as cliffs, ledges, and balds. It is one of the first flowers to emerge in late April. It often, though not always grows in colonies or clusters.
Spring Beauty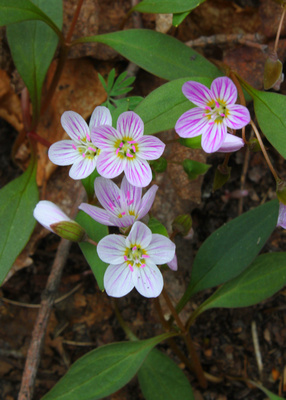 These attractive flowers, with reddish or purple-lined petals, thrive in a variety of habitats in eastern deciduous forests, including rocky mountain slopes, bluffs, ravines, wetland edges, and even gardens and parks. Bloom time is late April and May.
The next installment will feature the next round of mid-spring species, including painted trillium, fringed polygala, and columbine.