75 years ago, the landscape of the Swift River Valley in central Massachusetts was in the midst of a remarkable transformation as four towns were discontinued, abandoned, and largely flooded during the creation of Quabbin Reservoir, the water supply for eastern Massachusetts. Since that time, the reservoir has become an "accidental wilderness," a 40 square mile haven for wildlife in the midst of one of the country's most populous regions. In addition, thousands of acres of lesser-known watershed lands to the east, including the Ware River and Wachusett Reservoirs, were also taken during the 20th century.
I'm pleased to announce the recent release of Quabbin Reservoir Through Time:, a new book in Fonthill Media's America Through Time series. The book features 90 historic images paired with recent color photographs taken from the same vantage, along with an introductory history of the water supply projects.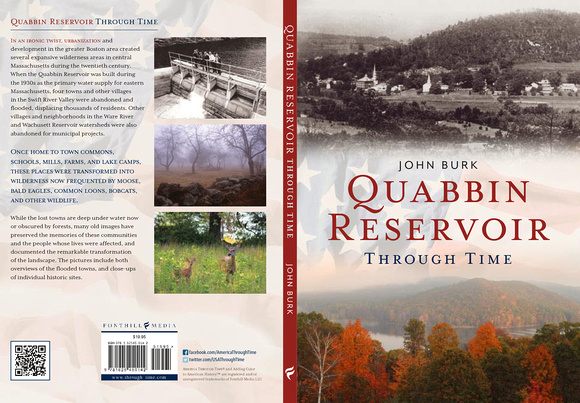 Though nature has largely reclaimed most of the Swift, Ware, and Wachusett watersheds, many historic sites remain visible today. Arguably the finest outing for those with an interest in history is the former road to Dana Common (Gate 40) in Petersham, where an old town road leads past several old farm sites to the former site of Dana. Interpretive signs with pictures of the old buildings were recently posted at many of the old foundation sites, allowing visitors to compare past and present views.
For images of Quabbin Reservoir, the Swift and Ware Rivers, Wachusett Reservoir, and other nearby places, feel free to check out my central Massachusetts galleryL http://johnburk.zenfolio.com/p1068073715