With its variable topography and abundant precipitation, Massachusetts is home to a variety of distinctive waterfalls. Many of its largest cascades are found in the westernmost portion of the state in the Appalachian uplands of Berkshire County, while others are spread across the western and central foothills. Each of the seasons offering viewing potential. In spring, volumes are generally highest after winter snowmelt. Autumn brings colorful foliage and soaking rainstorms that recharge volume. In winter, unusual ice formations can change by the day. Below are some of my favorite and most photogenic waterfalls in the various regions. There are plenty of others well worth a visit - good luck exploring!
Tannery and Ross Brook Falls, Savoy Mountain State Forest: This hidden ravine in Savoy Mountain State Forest is a special treat for waterfall enthusiasts, as it is home to two large, distinct cascades within a few hundred feet of each other. The short trail follows Tannery Brook, then descends via a set of stairs to the base of the ravine. The first cascade on Tannery Brook is to the right of the steps, while the falls on Ross Brook is ahead to the left. If you have time for an additional hike, the Busby Trail offers an easy climb to the summit of Spruce Hill and one of the finest viewpoints in the Berkshires, including a great look at Mount Greylock across the valley. Directions: From Route 2 (Mohawk Trail) in Savoy, turn south on Black Brook Road for 1.4 miles, then right on Tannery Brook Road for 0.7 miles to parking area at Tannery Pond.
Rocky gorge and falls on Tannery Brook in early autumn.
Campbell Falls, New Marlborough: These cascades in the southern Berkshires are one of the more remote attractions in Massachusetts, but it's well worth the effort and an easy walk once you get there. The Whiting River drops roughly 60 feet in several steps after funneling through a narrow gorge at the lip of the falls. Look for red columbine wildflowers during the spring. Directions: take Route 57 to New Marlborough, then follow New Marlborough-Southfield Road to Southfield, then left on Norfolk Road to Campbell Falls Road.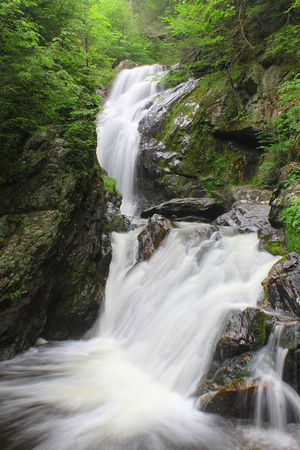 Late spring high water at Campbell Falls.
Bash Bish Falls, Mount Washington (town of, not the mountain): Bash Bish Falls has long been one of the signature attractions of the Berkshires. It is famous for its twin cascades, though one of these has been blocked in recent years by downed trees from a storm. Directions: From Routes 41 and 23 in South Egremont, bear left on Route 41, then right on Mt. Washington Road for 7.5 miles, right on Cross Road, right on West Street, left on Falls Road and continue 1.5 miles to main parking area.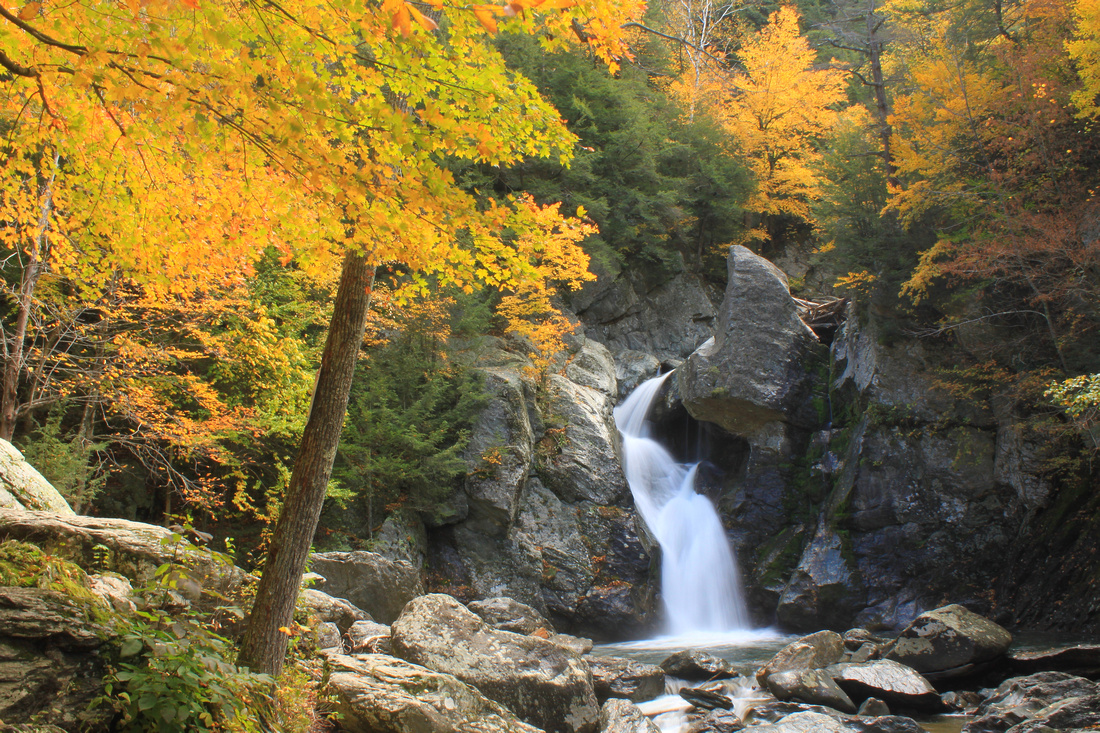 Bash Bish Falls is one of Massachusetts' best-known natural features.
Wahconah Falls, Dalton: This scenic cascade in the central Berkshires is one of the state's most accessible waterfalls, as it is reached by a very short walk from the trailhead. Wahconah Falls Brook drops 40 feet into a pool, passing some neat formations carved into the rocks by the flowing water. Directions: From Routes 9/8A in Dalton, drive 2.6 miles east of town center and turn south on North St./Wahconah Falls Road and follow signs to entrance.
Bear's Den, New Salem: En route to its confluence with Quabbin Reservoir, the Middle Branch of the Swift River, one of the reservoir's largest sources, carves a path through a neat falls and gorge near old mill sites. The falls are a short walk from Neilson Road; use caution around the rocks and ledges. From Route 202 north of New Salem center, turn west on Elm Street, then left on Neilson Road and continue to roadside parking area on right.
Swirling pools at the base of the Bear's Den falls.
Royalston Falls, Royalston: The unrelenting carving power of even a small forest stream is evident along the valley of Falls Brook near the New Hampshire state line. From the Trustees of Reservations parking area adjacent to the Newton Cemetary, follow the combined Tully and Metacomet-Monadnock Trails on a moderate descent into the valley. After crossing the brook on a wood bridge, go right and follow the yellow-blazed Tully Trail for 0.3 miles to the falls and gorge. Nearby Doanes Falls, a quarter-mile long series of cascades on Doane Hill Road near the Tully Lake campground, is also well worth a stop in this area. Directions: From the junction of Routes 2 and 32 in Athol, follow Route 32 north past the junction with Route 68 in West Royalston, then continue 1.7 miles to the entrance on right.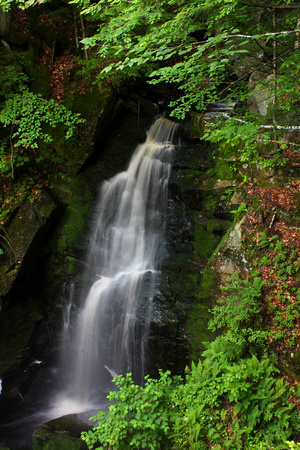 The narrow cascades of Royalston Falls.
Trap Falls, Willard Brook State Forest: Waterfalls are few and far between in eastern Massachusetts, thanks to the mostly level topography of the coastal plain. The distinctive triple cascades of Trap Falls are a highlight of the Willard Brook State Forest in Ashby, a short drive east from Mount Watatic. Directions: The parking area is on Route 119 in Ashby, a few hundred feet west of the Ashby-Townsend town line.