In Part 1 on Western Massachusetts foliage viewing I gave a quick overview of the region.Now, here are some specific recommendations (this is in progress and will be updated shortly!)
In the Berkshires, the Mount Greylock State Reservation includes a 16-mile byway that visits the summit of southern New England's highest mountain. There are a number of roadside vistas near and at the summit, and while driving up you can really see the different colors at different elevations. In addition to the summit, there are many short trails that lead to other features - I strongly recommend Rounds Rock Trail, Robinson's Point, and March Cataract Falls if its been raining.
The Savoy Mountain State Forest off of the Mohawk Trail Highway has an easy trail to Spruce Hill, where there's a great panorama of Mount Greylock and the Berkshires and southern Green Mountains, and also two large waterfalls in one ravine.
Pittsfield State Forest has an auto road to the summit of Berry Mountain, where there's a high-elevation pond and westerly views, also some nice streams and cascades near the campgrounds and day use areas.
Mount Everett State Reservation has views across the southern Berkshires and another high-elevation pond, as well as the cascades of Race Brook Falls.
The Mohawk Trail Highway is a well-known touring route. It follows Route 2 from Athol west to Mount Greylock near Williamstown, Some of the most dramatic scenery is in the Cold River Valley, a narrow corridor with steep slopes. The road then climbs the Hoosac Range to a series of overlooks. If you have time, make a detour on River Road in Charlemont, which winds along the dramatic Deerfield River valley to Vermont.
The lesser-known Jacobs Ladder Trail (Route 20 area) follows the watershed of the Westfield River, a designated National Wild and Scenic River.
In the Connecticut Valley, one of the best vistas is from Mount Sugarloaf, a great panorama of the valley and the village of Sunderland. There's an auto road and several short hiking trails with brief steep climbs.
Mount Holyoke has another fine summit view that can be reached by car or on foot, and there are some nice farm field views at its base as well.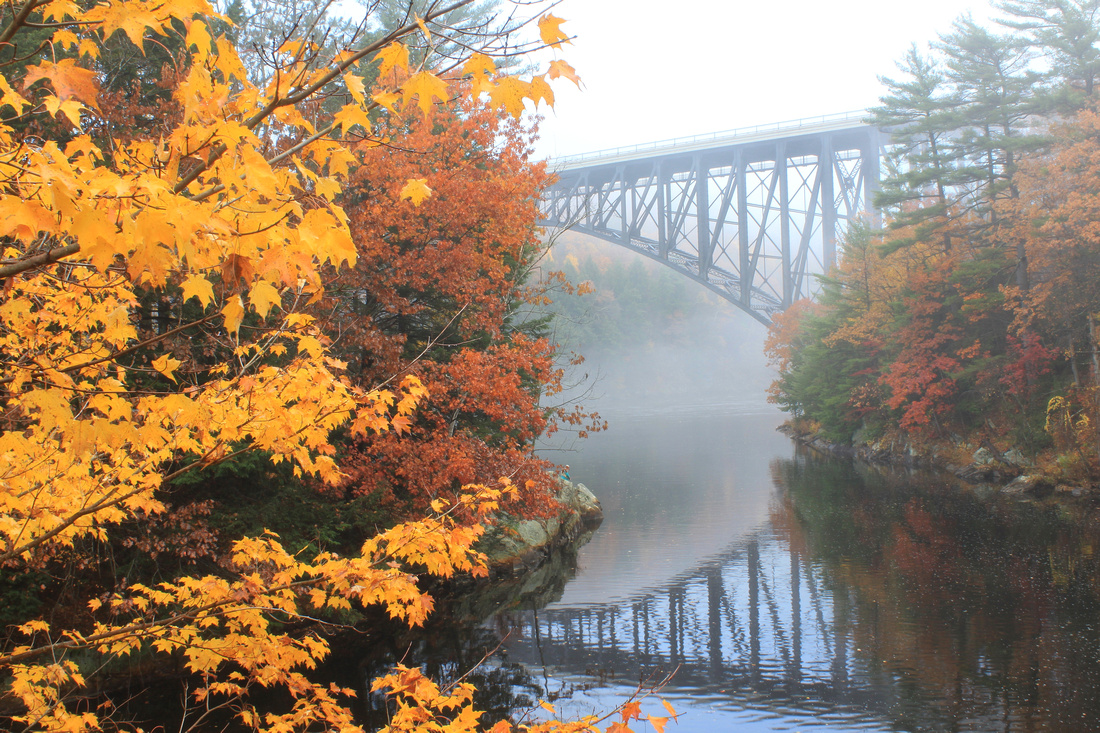 The French King Bridge (above) is a popular spot on the Mohawk Trail with dramatic views of the French King Gorge and the Connecticut River. You can take a boat tour of the gorge run by the Northfield Mountain Recreation Center.
The next installment will have details on central Massachusetts, the area east of the Connecticut Valley.