An exciting astronomical event of recent has been the visibility of a comet called PANSTARRS. Officially known as 'c/2011L4,' it was discovered in June 2011 and is one of several comets that will be visible in the night sky during 2013.
During March 2013 PANSTARRS has been visible on the western horizon (270 degrees) after sunset. In an unusual twist, photography may be the best means of viewing this faint comet. Because of the glare of twilight, it is often difficult or impossible to see with the naked eye or even good binoculars. However, it often will be visible on long camera exposures. On the 13th and 14th, the low crescent moon has served as a useful reference point.
This image was taken from a vantage in Harvard, Massachusetts, looking due west to Wachusett Mountain. The row of lights is from the mountain ski area. This image was taken roughly 45 minutes after sunset. At the time the comet was not visible to the naked eye, but was through binoculars. It vanished into oncoming low clouds and light pollution on the horizon shortly thereafter. Note the tail, which is visible even in this distant view.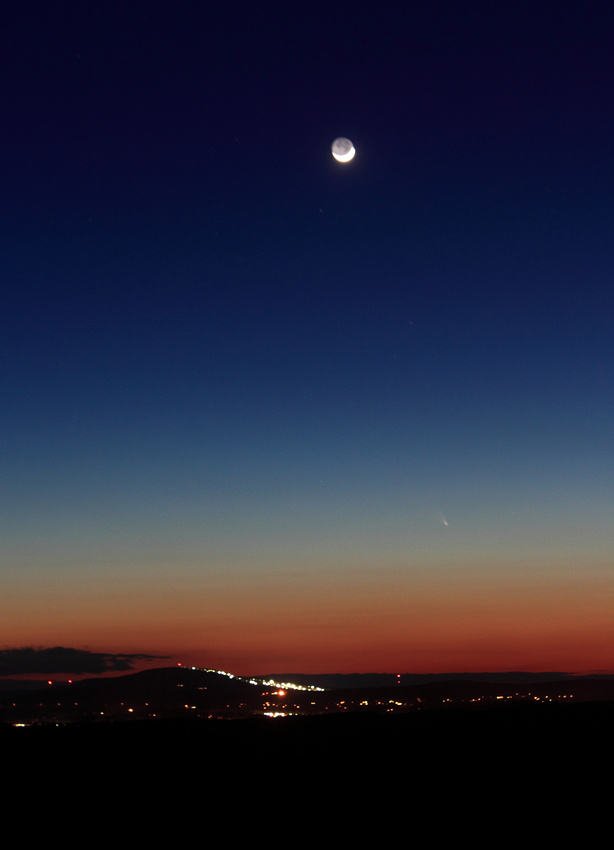 For more information about viewing later this month, there are several good sources on the Web including http://earthsky.org/space/comet-panstarrs-possibly-visible-to-eye-in-march-2013. Another, brighter comet known as 'ISON' will be visible in late 2013.